Hey guys, I was planning on installing a new kickstand pad today and I remembered I had wanted to check the kickstand because it seemed to me that ever since I purchased the bike the kickstand had alot more motion in it than I was used to. The bike also seemed to lean over very very far when on the stand.
Well, once I got down there and started looking around I discovered that the kickstand was backed out about a 1/2" and was very difficult to turn. After I got the bolt out this is what I found:
After looking at the parts diagrams I realize that the nut holding the bolt had come off at some point and allowed the bolt to back out.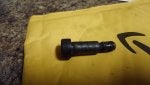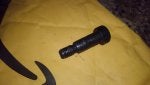 Needless to say, I have a new kickstand nut and bolt coming in the mail.
So check your kickstand hardware just in case.