Discussion Starter
·
#1
·
For those of you familiar with shade tree adjusting the TPS on early V92Cs via shorting engine diagnostic plug pins B & E with a paper clip per that Vic Shop video, I've invented a TPS adjustment access switch using a couple of common items costing about $20 total. These are: a single pole single throw [SPST] toggle switch [$5] and the female electrical plug [$17] which mates with the 5 pin male electrical plug that is the diagnostic port on these bikes. That plug is actually the headlight plug from a 1998 Pontiac G6, available on E-Bay.
Fotos follow:
01. The diagnostic plug is under here
02. It looks like this
03. Diagnostic plug with pins labelled
04. New female plug with pins labelled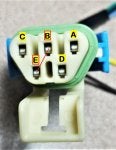 Note that male and female plugs are mirror images. Do NOT accidentally wire pin B to D on the female plug.
05. SPST toggle switch