... and invisible motorcycles.
One of my goals was to ride into Tijuana on my Vegas, have a shot of tequila and have my picture taken while wearing a sombrero and then leave.
I made it to the southwestern most point in the US and took a picture of my Vegas in front of the Bull Ring in Tijuana from the US side.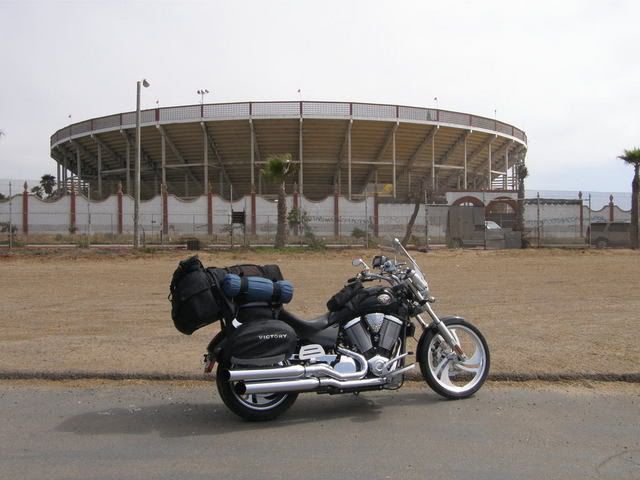 The next day I was going into Tijuana. Everyone one I talked to (Border Patrol, Police, locals) told me not to ride into Tijuana alone on the Vegas. If you take your bike you won't come back with it. Looks to pretty, and stands out. You don't want to stand out when you are alone in Tijuana.
So I left my bike at the motel in Chula Vista, Ca and took the trolley to Tijuana.
When you get to the border you walk through a turnstile and you are in Mexico.
No one talks to you, no questions, you are in Mexico and no one knows you are there.
In Tijuana-
I took a taxi to the main shopping area in Tijuana. I was very nervous about getting into a cab after reading some of the stories about TJ.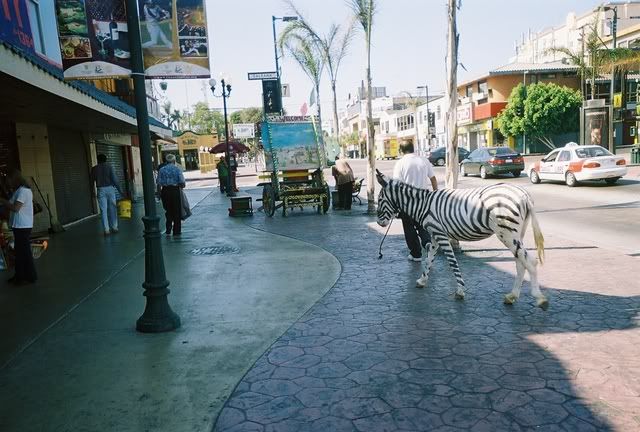 I had my shot (3) of Tequila and my picture taken with a sombero on. No one will ever see that picture. It was a nice day until I decided to walk back to the border.
My shot of Tequila.
I decide it will be safer to walk back to the border, I don't want to get back into another cab. It's 80 degrees and only a 45 minute walk so I asked Julio how to get back to the border. He says walk towards the Arch and turn right.
The Arch-
I did what he said but I turned right to soon. I walked about 8 blocks before I started to think I should not be here. As I'm pacing back and forth deciding what to do 4 Tijuana cops that are standing on the other side of the road see me and wave me over to talk to them. My heart stops.
They have me lean against their van and search me. One of the TJ cops speaks english the others just follow orders. He asks me over and over if I am buying drugs. Thank God I only have $30 left on me. After about 20 minutes of questions they decided that I am just a stupid tourist and let me go. I was lucky, they were just doing their job.
I finally found my way back to the border crossing stairway.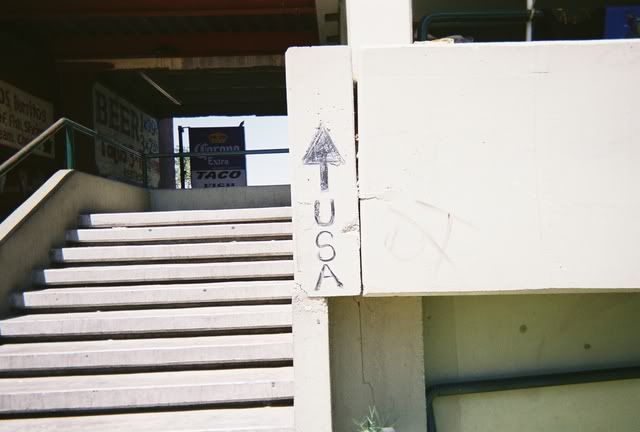 While I'm walking back to the border I see two more TJ cops coming from the other way and they are looking right at me. Suddenly a man runs past me and their eyes leave me and they grab him.
They start searching him. I pull out my camera as I'm walking and hold it along my side and take their picture. (I never said I was very smart). They are standing under the lamp post.
I made it back to the border crossing. As I'm crossing the bridge I'm glad I didn't ride in. The traffic leaving TJ is unbelievable.
I got back on the trolley and went back to my motel.
The first person that I saw at the motel was one of the armed sercurity guards (ex cop) that worked there. He stood there patiently and listened while I took him about my adventure in TJ. After I finished he shook my hand and said "welcome back, you dont know how lucky you are!"
I took my stuff back to my room, called my wife to tell her that I was still alive and then walked to the nearby Denny's to get a burger.
I sat at the counter at Denny's and placed my order. I noticed that the guy sitting next to me is starring at my arm. He's in his mid 50's and looks like he may have enjoyed the 70's a little to much.
Finally he says "are you a motorcycle mechanic?" I reply "no, but you are close, I am a mechanic and I do have a motorcycle".
He seems upset that he is wrong. He had been looking at my tattoo of gears on my arm.
He says "are they interplantary gears?" I laugh, but he looks serious so I just say "aaaaa no". Now I'm getting a little nervous.
He is drawing and writing while he is having his coffee and them he suddenly says "there are a lot of motorcycles here!"
I look over at him ( he looks down every time I look at him) and say " I really haven't seen many". He replies "they're invisible, be careful where you walk".
Okay. Now I'm eating as fast as I can.
As I got up to leave he hands me the piece of paper that he had been writing on. He said it was a picture of a motorcycle that I should use for a tattoo.
I looked at it and said "that is cool, thank you". He had even dated it.
As I walked out the door I turned the paper over and noticed that he had written a note on the backside. Apparently he didn't think I was worthly to be talking to him. (denied the right to talk to me) Now I'm looking over my shoulder and quickly heading back to the motel.
The night (armed) security guard was doing his rounds when I returned to the motel and I started telling him about my day. He says I should be more careful and then says "but that's a hell of a day!".
After talking to him for awhile I found out that he was in the military but was given a medical discharge.
He had arm, head and eye injuries caused by bomb fragments in Afghanistan. I could see the scares on his face and arms........ he was not happy about his discharge.
He also had a day job. He was working two jobs to pay the bills. He had two young children and another one on the way.
I told him about my road trip from Milwaukee. He says "that must be your bike locked to the fence!."
This motel had 24 hour armed guards and a gate that closed at night at didn't open until the next morning. I had 2 locks on the bike and a cable that locked it to the fence.
I said "yes, that's my bike". And then I asked him "if you see anyone by my bike could you please shoot them?"
He laughed and said "yes I will shoot them".
I called my wife again to tell her that I was still alive.
I slept great that night. I left the next morning. Rode up the coast and then headed for Sequoia N.P.
I had never been at a motel that had this much security. 5 miles from the border.
It was a hell of a day and one of the reasons I enjoy road trips so much.
The next day (Friday) I arrived at Sequoia N.P. at 7:00 pm and all of the camp sites were full ...........