Victory Motorcycles: Motorcycle Forums
​
Victory Cross Country Tour
Springtime in Texas means a thing or two to residents. For some, it's time to gather the family, drive down major motorways, stop and snap a photo of the family laying in the wild flowers of the bar ditch. For others, it means that they will no longer be breathing out of both nostrils at the same time, or at all for the next month and a half. For me, it's riding season, and time to slap a helmet on to enjoy some of the most amazing roads that CenTex has to offer.
It also means that almost every weekend there is something motor-related happening in Austin. A few weeks ago, I utilized our long weekend to go out and put some quality miles down on two wheels out in the Hill Country. The reason for the season was of course Easter, and the event that got me out of the Austin city limits was the Giddy Up Chopper and Vintage Motorcycle show down in New Braunfels. I needed to spend a little more quality time atop the Victory Cross Country Tour, a bike that I rode back in Sturgis last year, but I was awash with stress during that event, so I wasn't able to give it my full attention. Now, here in Texas, I was able to give it the attention it deserved.
​
Initial Impressions
Jesus, this thing is big when you walk up to it. Full fairing, lower fairings, hard bags, top case, the whole damned thing. I am not a big guy in the least. Weighing in at around 175-180 and standing every fraction of 5'10" tall, I am just about average for an adult male in every way. Bikes like this can be very intimidating at first and any time you haven't ridden one in a while. It has been months since I first rode this beast in the Black Hills of Sturgis, SD, so I felt ready for it's size and weight, but I was still apprehensive.
Swinging a leg over this thing made me wish that I had spent the last several...
​
• Project 156 returns to Pikes Peak
• Victory Racing's electric Empulse RR to enter the electric class
• Riders Jeremy Toye and Don Canet now in preparation
Victory Racing has announced its intention to field two motorcycles in this year's Pikes Peak International Hill Climb.
The Project 156 prototype bike will be ridden by 2014 Pikes Peak Heavyweight Champion Jeremy Toye and the Empulse RR electric prototype (raced in last year's TT Zero at the Isle of Man) will be ridden by Cycle World's Road Test Editor Don Canet in the Electric Motorcycle Class. Don previously rode Project 156 in 2015.
"We are eager to bring the Victory Racing team back to Pikes Peak this year to help celebrate the 100th Anniversary of the Race to the Clouds," explains Alex Hultgren, Director of Marketing for Victory Motorcycles. "One way Victory lives and breathes Modern American Muscle is by continuously pushing ourselves through our performance and racing initiatives and since Pikes Peak is arguably the most challenging race in America, it's exactly where we need to be."
​
Toye says he is looking forward to start testing Project 156 in mid-April and comments: "After seeing Don ride Project 156 last year and watching a lot of the onboard video footage, I cannot wait experience Project 156 for myself."
Meanwhile testing of the Empulse RR electric prototype has already begun and team manager, Brian Wismann says: "The Victory Racing team is pleased to have successfully completed our first test in our journey back to challenge Pikes Peak on its 100th anniversary. We wanted to get our racer some familiarity with the power delivery, handling and nuances of racing an electric motorcycle and we were able to accomplish that and more. It's really a testament to Don's abilities that he was able to show up at a track he's never ridden before, throw a leg over an electric...
​
New model excitement, world records, demo rides, racing sponsorships, organized tours
MINNEAPOLIS — March 16, 2016 — Victory Motorcycles roared through a full schedule of events during the 75th Anniversary of Daytona Bike Week, March 5-12, with the excitement of the new Victory Octane, the setting of a world record, the launch of a forthcoming world record attempt, a packed and active display area and demo rides, stunt expositions, racing sponsorships, organized tours and much more.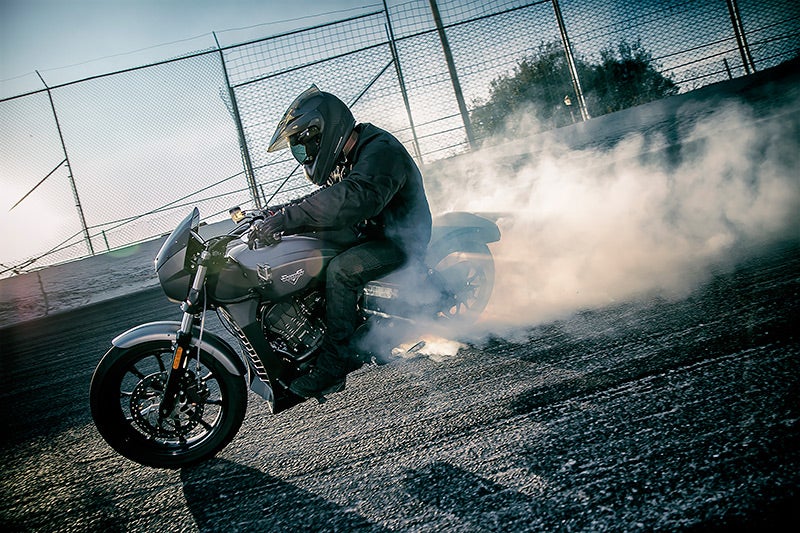 Events started at Orlando World Dragway, where Victory Stunt Team rider Joe "Vertical" Dryden achieved a
2.23-mile Guinness World Record Burnout
atop his Victory Octane. The feat was later celebrated at the famed Main Street Station, at a party hosted by Bryan Fuller from TV's Naked Speed and featuring special guests Dryden and partner Tony Carbajal, Red Bull extreme athlete Aaron Colton announcing his new Victory Octane project series, and live music by Raw Adrenaline.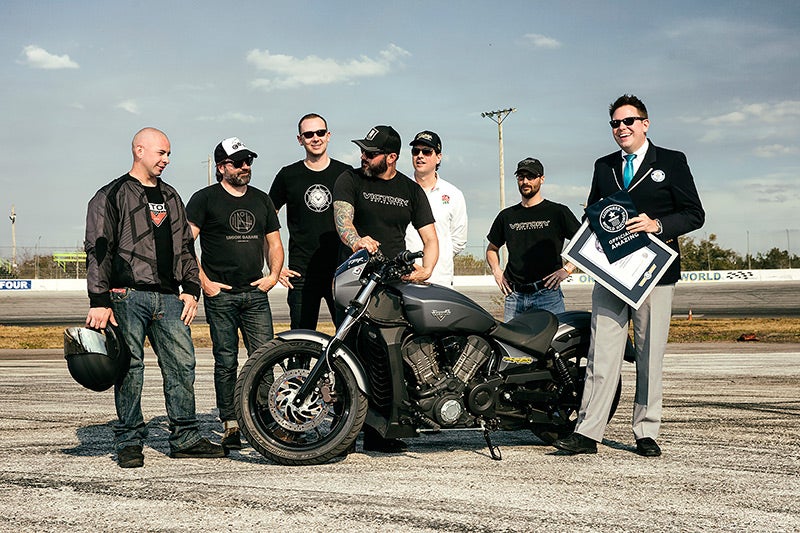 ​
Main Street Station also served as the host site for Victory's salute to the I
raq and Afghanistan Veterans of America (IAVA) foundation
. Victory Motorcycles is in its third year as a strategic partner to IAVA, and has provided financial contributions and helped raise awareness for the organization by providing exhibit space at major motorcycle events such as Daytona Bike Week, the Sturgis Motorcycle Rally, and motorcycle shows from coast to coast.
Located at Daytona International Speedway, the Victory Motorcycles display area remained a bustling hive of activity all week on the heels of the recent unveiling of both the Victory Octane muscle bike and Magnum X-1 Stealth Edition bagger. Victory Motorcycles offered enthusiasts test rides on the...
​

Matt & Angie Smith prepare Victory Gunner for NHRA Mellow Yellow Pro Stock Motorcycle Drag Racing Series
MINNEAPOLIS — March 24, 2016 —
Victory Motorcycles
®
Factory Race Team is ready to light 'em up again in 2016, its second year participating in one of the fastest, most intense sports on the planet: the National Hot Rod Association (NHRA) Mellow Yellow Pro Stock Motorcycle Drag Racing Series.
Showcasing Victory's commitment to deliver Modern American Muscle, the Victory Motorcycles Factory Race Team is comprised of NHRA power-couple Matt and Angie Smith, who are back racing their tricked-out, custom Victory Gunner drag bikes in this series fit for adrenaline junkies.
Matt boasts two World Champion titles and seventeen career wins, ending the 2015 season – his first with Victory Motorcycles Factory Race Team – 4th in points with three runner-up finishes as well as a No. 1 qualifier. Angie, Matt's wife and Victory Motorcycles Factory Race Team partner, last year blasted down the strip to three quarterfinal appearances.
Both riders say they got more comfortable aboard the Victory Gunners as their inaugural year atop the bikes progressed, and say off-season gains during testing should see them much improved in 2016.
"We did really well in testing and we know we have great horsepower," Angie says of their off-season work in Bradenton, FL. "When you do really well in testing, that makes you want to go to the first race even more just to see how you stack up with everybody. We're very eager to get there."
The NHRA Mellow Yellow Pro Stock Motorcycle Drag Racing Series, which kicked off March 17-20 at the Amalie Motor Oil NHRA Gatornationals in Gainesville, Fla., is scheduled to make 16 stops in 2016. Race attendees can meet the fan-friendly Smiths and their Victory Gunner drag bikes in person, as NHRA...
​
This last week I got to spend some quality time with the Octane in Daytona, FL during Bike Week. I took the opportunity to take two variations of the bike out to see just how much the accessories change the attitude and stance of the bike.
Unfortunately, I missed the press event due to the motorcycle build I had been working on for the several weeks. I hear that it was a smashing good time, complete with lessons from the Victory Stunt Team, Tony and Joe. I did, however get to roll out of the super secret hangar with a couple of Octanes for some testing of my own.
I started out with the standard model with no adds to establish the baseline. Now, I don't know if many of you have ridden along the arrow-like roads down in Florida, but there are not many curves in the state. Essentially you go north, northwest from Miami, there is a left at Jacksonville and then it's pretty much a straight shot west to Mobile. However, the best road in Daytona was the demo route that offered some sweeping, banked turns, with both left AND right-handers. I know right?!
With the standard pullback bars, I was in a comfortable, neutral position. I'm 5'10" and the cockpit of this little rocket didn't feel cramped at all. If I were a little longer in the leg, some ergos would need to be addressed with the accessories catalog and some extended reach pegs and seat. Sitting still, the tip weight of the Octane is almost nonexistent, and the platform feels light, nimble, and able to be tossed around with ease.
Out on the open road, I opened her up. Along a straight stretch of empty road, I cracked the throttle to see what the Octane had under the tank. I got a straight kick to the seat of my pants as the needle swept past the 60 mph mark and continued on. The power came on in a linear, and unrelenting fashion until I let the throttle roll back toward the front wheel. "Jesus! This thing is quick." That 104 bhp is no joke and I could see how Vic got the...