Victory Motorcycles: Motorcycle Forums
​
The Gunner has been one of Victory Motorcycles' best-selling cruisers this year – and it's one of the easiest models to customise too.
There's a line-up of official accessories that are simple to fit, yet can transform the look of the Gunner.
A suggested set-up is to fit the red leather 'Solo mission seat' and a fix the 'solo luggage rack' directly behind.
Solo Mission Seat in red
Solo Luggage Rack
Up front, the standard handlebars can be swapped for the 'Hammer Vee Drag bars' fitted with 'Victory Billet Grips' and 'Arlen Ness Rad III mirrors'.
Hammer Vee Drag Bars
Arlen Ness Rad III mirrors
Victory Billet grips
With the seat and riding controls taken care of, next in line is the engine. A simple fitment of 'Cam Tension Covers', 'Black Finned Engine Covers', 'Tracker Intake & Ignition covers' and 'Coloured Plug Wires' is enough give your Gunner more grunt.
Cam tensioner covers
Black Finned engine covers
Tracker intake and ignition covers
Coloured Plug wires for Gunner
To finish it off, owners can fit officially approved Akrapovič exhausts.
# # #
ABOUT VICTORY MOTORCYCLES
Victory Motorcycles designs, engineers, manufactures and markets a full line of cruisers, baggers and touring motorcycles. Every Victory model delivers industry-leading performance, comfort, style, storage and reliability. The first Victory was produced on the Fourth of July, 1998, in Spirit Lake, Iowa, where every Victory motorcycle continues to be produced today. Information about Victory motorcycles, apparel and accessories is available at
www.victorymotorcycles.com
and on Facebook at...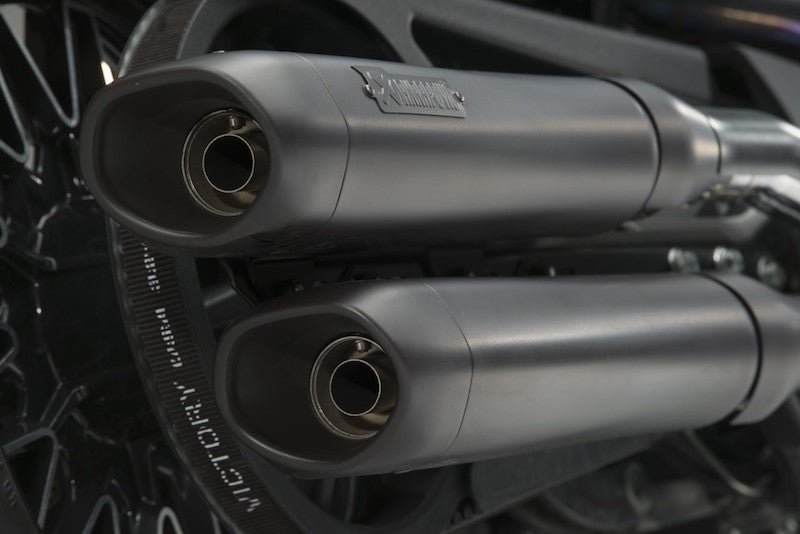 ​
All of the motorcycles in Victory Motorcycles' cruiser category can now be fitted with performance Akrapovič exhausts.
Owners of the Gunner, Judge, Hammer S, Hammer 8-Ball, Vegas 8-Ball and the High-Ball can simply make a straight swap of their standard exhausts for these new Akrapovič ones.
The exhausts come in either matte black or chrome and have a two-year warranty.
Uroš Rosa, PhD and CEO Akrapovič d.d says: "This is a very a significant event for all of us here at Akrapovič, and we are extremely proud to be the performance exhaust of choice for Victory Motorcycles' cruiser category. We have a history of creating innovative exhaust solutions using the latest technology, and it is this philosophy that we see in this collaboration. Victory Motorcycles has breathed new life into the American V-Twin cruiser market with its pioneering range of bikes, and we are delighted to align our own unique exhaust knowledge with them. Akrapovič will give part of its world and a whole new character to each and every bike fitted with one of its exhaust systems, and, through the performance, quality, design, technology, and unmistakable sound that we deliver with each exhaust system, all Akrapovič-equipped Victory Motorcycles cruisers will be bikes that stand out from the rest."
Victory Motorcycles' head of parts, apparel and accessories, Andreas Geisinger, said: "I was very excited to work with Akrapovič on this exclusive exhaust line for our Victory Motorcycles line up.
"Akrapovič, with their well-known class-leading quality and performance levels, goes perfectly with Victory Motorcycles' push to produce machines with 'Modern American Performance'. These handmade exhausts are like works of art."
You can listen to the Gunner running with the Akrapovič exhausts fitted at...
​
Torque.
Torque is an American ideal. An ideal that runs deep in American Motorsport. Until now, the industry at large had employed either large displacement or motors fed via forced induction to satiate the public's appetite for immediate power. This led to the constant use of fossil fuels and the contamination of the fresh air supply in our cities. The endless march of technology and progress inspired the search for an alternative form of energy to move us from one place to another. From the past to the present, the all new fully electric 2016 Victory Empulse TT is here. It may run on electricity – but riding it is a gas.
​
Introductions.
The introduction to any new model of bike is generally the same: Here is the key. This is the start button. This is "on." So on and so forth. Normally you straddle the bike, go through the familiar motions, and be rewarded with vibrations and the growl of a high-quality gasoline powered motor roaring to life between your legs. The Empulse TT is a little different. The key, the "on" position, the start button; these are all in the same place, and everything makes sense in that regard. It's the absence of the familiar whir of a priming fuel pump that is first noticed. Normally, this would mean something is amiss with the machine, but not with the Empulse TT. Stay the course, and hold the starter button for a moment. Silently, the gauge wipes for a second time. A barely-audible, yet quintessential electronic click is the only sound heard, and a yellow "ON" emblem flashes on the dash. Now what? Is that it? There is no auditory reward other than a healthy click signifying that electricity is moving about the system. There is no rumble, no vibrations from electrons pulsing...
2016 Victory Empulse TT
​
RACE PROVEN ELECTRIC POWER
EMPULSE TT
This is a street legal electric race motorcycle. Built on the same platform that set an American lap-speed record at the Isle of Man, it accelerates up to 100MPH+ and the battery fully charges in 3.5 hours. Where it matters most, the Empulse TT is fast. It is 10,400 watt hours of proof that Victory doesn't just prove performance, we advance technology. The sport-tuned inverted front forks and adjustable suspension are engineered to provide track-level performance. It has the fastest battery charging speed, greatest lean-angle, and advanced regenerative braking system. Wherever the Empulse goes, it electrifies all audiences.
Proven at the most demanding race on the planet

2015 Isle of Man TT
Where there is no room for error, we proved performance. The Isle of Man TT is the fastest, twistiest, and gutsiest race on two wheels, the perfect location to introduce the world to our electric motorcycle. For 37 miles, we pushed a top speed of 144.34 MPH. We averaged 111.62 MPH. We set the record for an American electric bike, and it was our first attempt. We didn't just prove that we belong; we stepped up on the podium, and proudly waved the flag of modern American muscle.
​
The Fastest Charging Battery on the Market
The Empulse's battery fully recharges in 3.5 hours, and up to 80% in two hours. With a battery capacity of 10,400 watt hours, the Empulse TT can achieve up to 140 miles of range per charge. Advanced regenerative braking returns power to the battery every time you let off the throttle, and all this battery technology comes with a 5-year warranty. No matter how you measure it, this is the best performing electric motorcycle battery on the road.
"Lightning in a Throttle"
Full Charge in 3.5 Hours - Fastest in...
​
LIFE, LIBERTY, AND THE PURSUIT OF HORSEPOWER.
Victory Motorcycles is a brand wrapped up in performance. Our class-leading motorcycles carry a reputation of reliability, performance, and handling. We engineer modern American muscle into every bike that rolls out of Spirit Lake, Iowa. This is more than a business to us; we have an inextinguishable passion to push the limits. We build bikes that rip off from the green light, blast through city streets, and crave the open road. We build bikes to win NHRA races. This year, our NHRA team is racing to be the first Pro-Stock team to break 200 MPH. We build bikes to break land speed records. Our endurance team is training to circumnavigate the world in 100 days. Our Stunt Team — well, there's no predicting what they'll do next. This year, we don't just talk about performance; we go to all ends of the earth to prove our commitment to performance. The Victory Motorcycles 2016 lineup is the most exciting ever, with the muscle, confidence, and technology to inspire riders around the world.
​
2015 ISLE OF MAN TT
Where there is no room for error, we proved performance. The Isle of Man TT is home to the fastest and gutsiest race on two wheels, so it's the perfect location to introduce the world to our electric motorcycle. For 37 miles, we pushed a top speed of 144.34 MPH. We averaged 111.62 MPH. We set the record for an American electric bike, and it was our first attempt. We didn't just prove that we belong; we stepped up on the podium and proudly waved the flag of modern American muscle.
​
ELECTRIC MOTORCYCLES
Victory Motorcycles remains committed to the future...